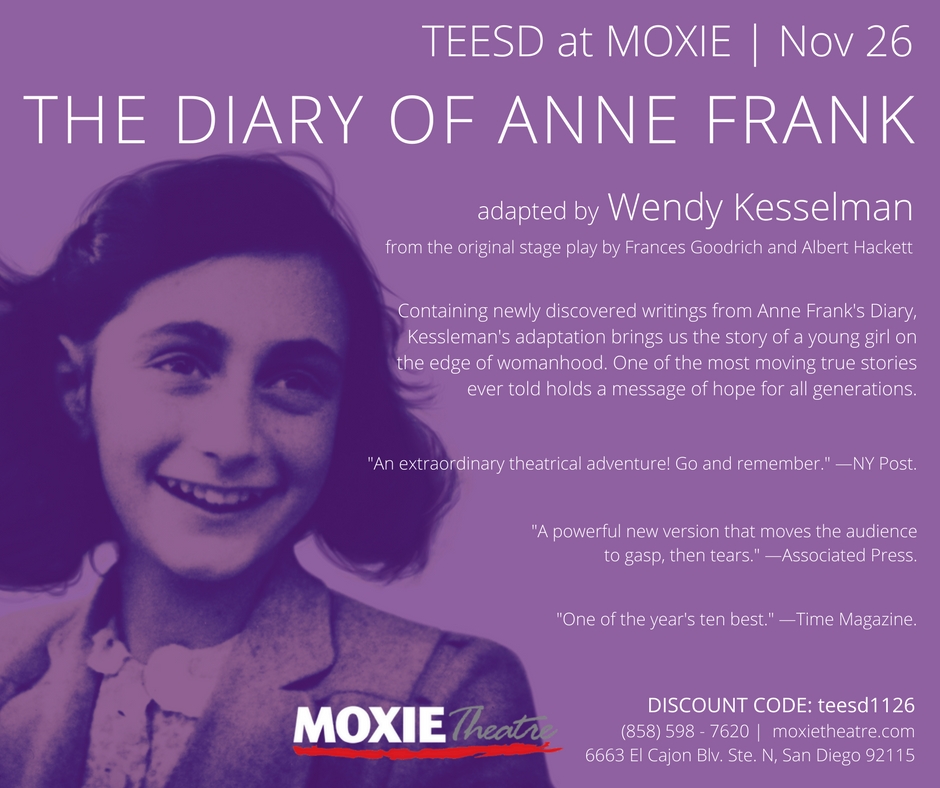 By Frances Goodrich and Albert Hackett
Newly Adapted by Wendy Kesselman
Directed by Kym Pappas
November 12 – December 17, 2017

About the Play: Anne Frank emerges from history in this powerful new adaptation as a living and impassioned young girl on the edge of womanhood. Anne confronts the horror of her time with honesty, determination, and hope. One of the most moving true stories ever told, Anne's diary speaks today as clearly as ever and holds a message for all generations.
Cast
Anne – Katelyn Katz
Peter – Nick Lux
Margot – Amy Perkins
Mr. Kraler – Austin Wright
Mr. Dussel – Joe Paulson
Mrs. Van Daan – Holly Stephenson
Mr. Van Daan – Jonathan Sachs
Otto Frank – Eddie Yaroch
Edith Frank – Wendy Waddell
Miep – Jamie Channell
Nazi – Malcolm Wilson
Nazi – Gavin Ayers
Nazi – Andrew Sharp
Creative and Production Team
Director – Kym Papaas
Dramaturg – Eli Chung
Scenic Designer – Sean Fanning
Costume Designer – Jennifer Brawn Gittings
Sound Designer – Lily Voon
Lighting Designer – Christopher Renda
Prop Designer – Angelica Ynfante
Technical Director – Cynthia Bloodgood
Stage Manager – Jessamyn Foster
Assistant Stage Manager – Malcolm Wilson