Plan Your Visit
Award-winning theatre in a strip mall? Yes, we did.
MOXIE Theatre is located in the Aztec Shopping Center at 6663 El Cajon Blvd Ste. N San Diego, CA 92115. First-time MOXIE audiences are always surprised by the spacious lobby and beautiful 99-seat theatre that is cleverly located in our favorite neighborhood of Rolando, near San Diego State University. Our location includes free parking, with handicap parking right in front of our entrance. Our location makes it possible for MOXIE to keep our ticket prices affordable and theatre accessible.

When planning your visit consider that you can not turn left into our parking lot when heading west on El Cajon Blvd. It's necessary to make a u-turn in order to turn right into the Aztec Shopping Center.

Where to eat before the show? Our neighborhood is casual and delicious. For a pre-show dinner, MOXIE recommends Terra American Bistro or Pesto Italian Craft Kitchen. And for quick casual food try Chuy's Taco Shop (featured on Diners Drive-Ins & Dives), San Diego Blenders (open till 5 p.m.) or Ben & Esther's Vegan Jewish Deli (open till 3 p.m.) all located in our shopping center. 
Note: Online ticket sales conclude 2 hours before each performance. $20 RUSH tickets available at the Box Office by request 1 hour before showtime.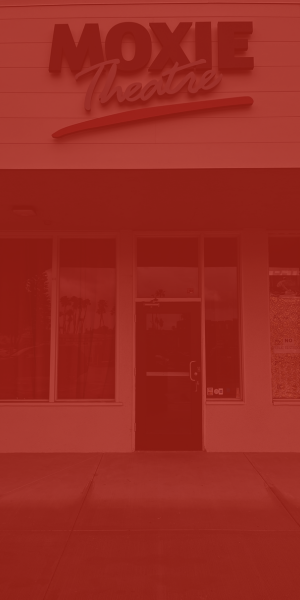 Box Office
(858) 598-7620
boxoffice@moxietheatre.com
Box Office Hours:
10:00 AM – 3:00 PM
During the run of a performance:
Monday: Closed
Tuesday: 10:00 AM – 3:00 PM
Wednesday: 10:00 AM – 3:00 PM
Thursday: 4:00 PM – 8:00 PM
Friday: 4:00 PM – 8:00 PM
Saturday: 4:00 PM – 8:00 PM
Sunday: 11:00 AM – 4:00 PM
Tickets & Subscriptions can also be purchased online at anytime.
Performance Schedule:
The Box Office will open 1 hour before performances.
Thursdays
7:30 PM

Fridays & Saturdays
8:00 PM 

Sundays
2:00 PM
COVID-19 Safety Policy
For the comfort of ALL of our community of theatre lovers and theatre makers, MOXIE is providing different options for attending performances:
First Sunday Masked Matinee: During the FIRST Sunday Matinee performance of each show MASKS WILL BE REQUIRED at all times when indoors. We encourage anyone who is immunocompromised or at high health risk to attend this special performance. See CDPH mask recommendations here.
Masks Encouraged At All Other Performances: For all other performances mask are encouraged but not required. A mask can be provided upon request.