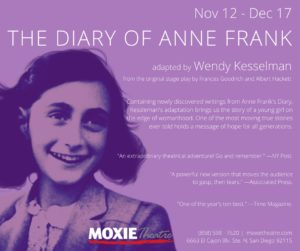 THE DIARY OF ANNE FRANK
Adapted by Wendy Kesselman
from the original stage play by Francis Goodrich and Albert Hackett
directed by Kym Pappas
Nov 12 – Dec 17 / Opening Night: Nov 18
Thur @ 7pm, Fri & Sat @8pm & Sun @2pm
About the Play
This is a new adaptation for a new generation. Containing newly discovered writings from Anne Frank's diary, this is the unforgettable true story of eight people hiding from the Nazis in a concealed storage attic from 1942-1944. THE DIARY OF ANNE FRANK captures the claustrophobic realities of their daily existence—their fear, their hope, their laughter and their grief. Anne confronts her rapidly changing life and the increasing horror of her time with astonishing honesty and determination.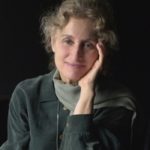 About the Adapter
Besides her Tony-nominated adaptation of The Diary of Anne Frank, Wendy Kesselman's plays include The Executioner's Daughter; The Notebook; The Foggy Foggy Dew; The Last Bridge; I Love You, I Love You Not; Maggie Magalita; Merry-Go-Round; The Shell Collection; My Sister in This House, A Re-imagined Version (Deaf West Theatre); The Graduation of Grace and Spit. She also wrote the book, music and lyrics for The Juniper Tree, A Tragic Household Tale; A Tale of Two Cities; Becca and The Black Monk: A Chamber Musical, which will have its CD release in fall 2015.
Among other honours, she has received the Susan Smith Blackburn Prize; the AT&T Onstage Award; The New England Major Award for Outstanding Creative Achievement in the American Theatre; the first annual Playbill Award; the Roger L. Stevens Award; the Jane Chambers Playwriting Award,; the Lecomte du Noüy Annual Award; Meet the Composer Grants; Guggenheim, McKnight and National Endowment for the Arts Fellowships; and a Writers Guild of America Award for her screen adaptation of John Knowles's A Separate Peace. Her other screenplays include Sister My Sister (adapted from My Sister in This House) and I Love You, I Love You Not.
Special Performance Dates:
Nov. 14, 2017 @ 10am – Hoover High comes to MOXIE: The Diary of Anne Frank
Students from Hoover High School join MOXIE for a sponsored matinee to enrich their education experience and learn about social justice through literature. Help send students to MOXIE! Sponsor a student and their ticket by donating $10 today!
Donate Now
Nov. 17, 2017 @ 7pm – Bechdel Brigade Night: The Diary of Anne Frank
Join The Bechdel Brigade for an an exclusive pre-show reception with the Director to talk about about the art, the artists, and how the production scores on the Bechdel Test.
Buy Tickets Now or Join the Brigade as a Subscriber
Nov. 18, 2017 @ 7pm –  Opening Night: The Diary of Anne Frank
Join MOXIE for the Opening of one of most moving true stories ever told in a new adaptation featuring newly discover writings from Anne Frank. After the show, enjoy a post-show reception with libations and the VIPs of the show!
Buy Tickets Now or Subscribe to Opening Nights
Sunday, Nov. 26, 2017 @ 2pm – Second Sunday Q & A: The Diary of Anne Frank  
Join the actors from The Diary of Anne Frank for a post-show discussion to learn more about the play and enrich your theatre going experience.
Buy Tickets Now
Thursday, Nov 30, 2017 @ 7pm – Look for the Helpers: A Closer Look at Miep Gies
Join MOXIE and Professor Emeritus of Modern Jewish History Lawrence Baron (SDSU). Professor Baron will give insight in to the history of Miep Gies, Anne's father's secretary who helped hide the Annex dwellers at great personal risk.
Buy Tickets Now
Sunday, Dec 3, 2017 @ 2pm – San Diego The Generations of the Shoah join MOXIE
Join San Diego The Generations of the Shoah at MOXIE after the performance for a special talkback featuring director, Kym Pappas, speaking on the themes in the play and Anne's message of hope for all generations.
Buy Tickets Now
Sunday, Dec 10, 2017 @ 2pm – What Would You Do? Social Justice Today
Join MOXIE for a post show discussion with Mejgan Afshan, Public Affairs & Policy Coordinator for the Council on American-Islamic Relations, San Diego. Ms. Afshan will give insight to what we can do in today's atmosphere to bring about social justice in the face of prejudice and to fight religious discrimination.
Buy Tickets Now
Ticket Pricing:
Previews-$20 (Nov 12, 16, 17)
Opening Night-$40 (Nov 18)
General Admission-$33-36 (Nov 19 – Dec 17)
*Please note there is a $3 handling fee which is already included in the price of your ticket. This fee is waived for groups of 10 or more and for our Subscribers.
Group Rates and Discounts:
Groups of 10 or more | $20
Groups of 15 or more | $15
Seniors, Students and Military | $5 off General Admission
*Please note, group rates will increase by $3 after Dec 7. To book your group, please contact christine@moxietheatre.com or call the Box Office at (858) 598-7620
Location: MOXIE Theatre
6663 El Cajon Blvd Suite N
San Diego CA 92115
PLENTY OF FREE PARKING!