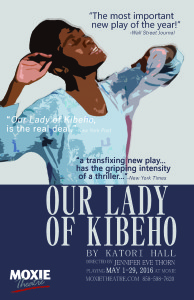 West Coast Premiere
OUR LADY OF KIBEHO by Katori Hall
directed by Jennifer Eve Thorn
MAY 1 – MAY 29, 2016
OPENING NIGHT: MAY 7
Based on true events that captured the world's attention and forever changed a community, OUR LADY OF KIBEHO tell the story of three girls in Rwanda who claim to see the Virgin Mary and deliver a message to the world that foretells the coming Genocide in Rwanda. Ostracized by schoolmates and labeled disturbed, everyone refuses to believe, until the impossible starts happening again and again. Skepticism gives way to fear, faith, and fate, causing upheaval in the school community and beyond.  Olivier Award-winning playwright, Katori Hall's, spectacular new play was dubbed "The most important new play of the year!" by the Wall Street Journal.
Buy Tickets Now
Performance Schedule:
May 1 – 29, 2016
Opening Night: May 7 @ 8pm
Wed & Thur @ 7pm, Fri & Sat @8pm & Sun @2pm
Special Performance Dates:
These post show discussions follow the regularly scheduled performance of OUR LADY OF KIBEHO for that day.
UNDERSTANDING – Friday, May 6th
A night of theatre & history. Theatre is a powerful way to express our humanity. Attend May 6th's special performance of OUR LADY OF KIBEHO by Katori Hall, followed by an unforgettable evening with professors from San Diego State's Department of Africana Studies and the Rwandan Orphan Project and gain a deeper understanding of the Rwandan Genocide and what YOU can do to help pave the way for a brighter future for Rwandan children.
EMPOWERING YOUNG WOMEN – Thursday, May 12th
Join us for a discussion with Dr. Susan Cayleff, Women's Studies Professor and the Faculty Director/Mentor of the Young Women's Studies Club at Herbert Hoover High School. Learn about how we can help empower young women in our community and give them space to use their voices.

SECOND SUNDAY Q & A – Sunday, May 15th
Join the cast and director of OUR LADY OF KIBEHO to hear more about the process of the production, why MOXIE chose the play and what the experience of playing Rwandans, priests, nuns has been like for the artists. 
INDUSTRY NIGHT – Wednesday, May 18th
Industry professionals enjoy a discount when they use the code INDUSTRY to purchase tickets to the show!
Location: MOXIE Theatre
6663 El Cajon Blvd Suite N
San Diego CA 92115
PLENTY OF FREE PARKING!
Ticket Pricing:
Previews-$20 (May 1, 5 & 6)
Opening Night-$40 (May 7)
General Admission-$30 (May 8-29)
Group Rates and Discounts:
Groups of 10 or more -$20
Groups of 15 or more -$15
Seniors, Students and Military- $5 off General Admission