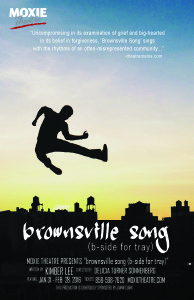 JAN 31 – FEB 28, 2016
PRESS OPENING NIGHT: FEB 6
MOXIE Presents the West Coast Premiere of
BROWNSVILLE SONG (B-Side for Tray) by Kimber Lee
directed by Delicia Turner Sonnenberg
starring: Cortez L. Johnson, Jyl Kaneshiro, Alex Robinson, Zoë Sonnenberg and Sylvia M'Lafi Thompson
Purchase Tickets
Call 858-598-7620
Buy Tickets Now
Synopsis: Stripped of political rhetoric, Kimber Lee's beautiful play tells the unique story of a blended and bi-racial family that struggles to grieve the tragic loss of 18-year-old Tray, who was shot mysteriously. Set in the Brownsville neighborhood of Brooklyn and moving fluidly between past and present, this dynamic new play reveals a family at both their weakest and strongest moments.

Watch the Trailer

Performance Schedule
Jan 31 – Feb 28, 2016
Opening Night: Feb 6 @ 8pm
Thur @ 7pm, Fri & Sat @8pm & Sun @2pm
(except Sunday Feb 7 which is @ 1pm)
Special Performance Dates
Exploring the Play – Feb 4, 2016
Join our panel of experts for a post show discussion about Images of Black Men in America with guest speakers from local universities.
Second Sunday Q & A with the Talent – Feb 14, 2016
Join MOXIE for a post-show discussion with the cast of BROWNSVILLE SONG (B-SIDE FOR TRAY)
Location
MOXIE Theatre
6663 El Cajon Blvd Suite N
San Diego CA 92115
PLENTY OF FREE PARKING!
Ticket Pricing
Previews-$20 (Jan 31, Feb 4 & 5)
Opening Night-$40 (Feb 6)
General Admission-$30 (Feb 7-28)
Group Rates and Discounts
Groups of 10 or more -$20
Groups of 15 or more -$15
Seniors, Students and Military- $5 off General Admission