4 Performances added!
BLUE DOOR now extended through
March 5, 2017 by popular demand.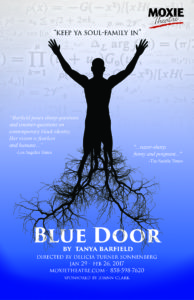 BLUE DOOR by Tanya Barfield
directed by Delicia Turner Sonnenberg
Jan 29 – Mar 5, 2017
OPENING NIGHT: Feb 4
Thur @ 7pm, Fri & Sat @8pm & Sun @2pm
Visit Press Page
About the Play
Lewis is a tenured professor of mathematics at a well-regarded university. Underneath his veneer of success, however, lies a soul troubled by questions of personal and cultural identity as an African-American man. When his wife leaves him because he won't attend the Million Man March (also there's the issue with the laundry), Lewis will inadvertently conjure his ancestors who lead him through an unbelievable journey through the past and present. Filled with humor and woven through with original songs, BLUE DOOR is a vivid, exuberantly theatrical play about the African-American male experience.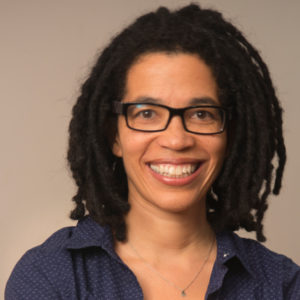 About the Playwright
Tanya Barfield's plays include: The Call (Playwrights Horizons & Primary Stages), Of Equal Measure (Center Theatre Group), Blue Door (Playwrights Horizons, South Coast Repertory and additional theaters), Dent, The Quick, The Houdini Act and 121º West. She wrote the book for the Theatreworks/USA children's musical: Civil War: The First Black Regiment. Tanya was a recipient of a 2013 Lilly Award and the1st Annual Lilly Award Commission. She has been commissioned by Playwrights Horizons, Center Theatre Group, South Coast Repertory, Primary Stages and Geva Theatre Center. She is a member of the Dramatists Guild Council.
About the Cast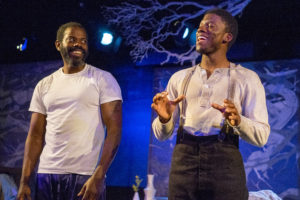 Vimel Sephus (Lewis) is delighted to be back at MOXIE. He is a native, who after two terms of enlistment and brief tour with Air Force Entertainment's Tops in Blue, returned to San Diego and has become a constant on stage. He has played distinct roles such as Virgil Tibbs in Ion's In The Heat of The Night and the title character in The Elaborate Entrance of Chad Deity. He's been a part of two SD Theatre Critics Circle nominated casts from MOXIE – Crumbs from the Table of Joy and Trouble In Mind.  He was most recently seen as BF in MOXIE's peerless and Father Tuyishime in Our Lady of Kibeho as well as the San Diego Musical Theatre production of Ragtime.
Cortez L. Johnson (Simon/Rex/Jesse) is very excited to be returning to MOXIE after his debut performance on the MOXIE stage as Tray in Kimber Lee's brownsville song (b-side for Tray). Johnson studied Theatre at Southern Illinois University of Carbondale and has worked both nationally and internationally as an actor. He was last seen in the San Diego Rep's televised production of HONKY (PBS).  Johnson's theatre credits stretch from the Caribbean to Europe, Africa, and to various parts of Asia. Favorite theatre productions include: Fastest Woman, A Raisin in The Sun, Antigone, Juice (Stage adaptation), The Mending Monologues, The Bombity of Errors.
Special Performance Dates:

Bechdel Brigade Night – Friday, Feb 3, 2017
Join the Brigadiers for a pre-show event starting at 7pm to celebrate women in theatre. The Bechdel Brigade is a group of lesbian community leaders and theatre lovers dedicated to supporting MOXIE's mission and female directors and playwrights like Tanya Barfield.
Second Sunday Q & A – Sunday, Feb 12, 2017
Join the cast and director of BLUE DOOR after the 2pm matinee to hear more about the process of the production and why MOXIE chose the play.
African-American Contemporary Identity and Double-Consciousness – Sunday , Feb 19, 2017
Join us after the performance of BLUE DOOR as we welcome our special guest speaker Dr. Adisa A. Alkebulan, Associate Professor in Africana Studies at San Diego State University and Professor Theresa Ford, a Counselor and adjunct faculty in the English and Cross Cultural Studies Departments at Grossmont College, for a special post-show discussion about the themes explored in BLUE DOOR.
Location: MOXIE Theatre
6663 El Cajon Blvd Suite N
San Diego CA 92115
PLENTY OF FREE PARKING!
Ticket Pricing:
Previews-$20 (Jan 29, Feb 2 & 3 )
Opening Night-$40 (Feb 4)
General Admission-$30 (Feb 5-Mar 5)
*Please note there is a $3 handling fee for each ticket purchased. This fee is waived for groups of 10 or more and for our Subscribers.
Group Rates and Discounts:
Groups of 10 or more -$20
Groups of 15 or more -$15
Seniors, Students and Military- $5 off General Admission