A Joint World Premiere
BLISS
(or Emily Post is Dead!)
by Jami Brandli

directed by
Delicia Turner Sonnenberg

Jan 28 – Feb 25
Opening Night: Feb 3

Thur @ 7pm,
Fri & Sat @8pm
& Sun @2pm

Buy Ticket Now

About the Play
Housewives are dutiful. Husbands are brawny. It's 1960 and Emily Post's guide to etiquette is keeping America "great." But in a delicious turn of events, a stranger materializes who might end life as the citizens of North Orange know it. This audacious Joint World Premiere reimagines the tragic heroines of Greek Mythology as pill-popping housewives in a cautionary tale with deadly consequences.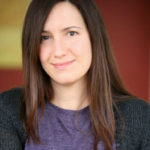 About the Playwright
Jami Brandli plays include Technicolor Life, S.O.E., M-Theory, ¡SOLDADERA!, Sisters Three, A Merry Little Christmasand BLISS (or Emily Post is Dead!) which was named in The Kilroys Top 46 List in 2014. Her work has been produced/developed at New Dramatists, WordBRIDGE, The Lark, New York Theatre Workshop, Great Plains Theatre Conference, Launch Pad, The Antaeus Company, Chalk REP, The Road, among other venues. Winner of John Gassner Memorial Playwriting Award, Holland New Voices Award and Aurora Theatre Company's GAP Prize.  Technicolor Life premiered at REP Stage as part of the 2015 Women's Voices Theater Festival.  BLISS (or Emily Post is Dead!) will receive a joint world premiere with Moving Arts, MOXIE Theatre and Promethean Theatre starting this fall, 2017.   She's been a finalist for the 2016 PEN Literary Award for Drama, Playwrights' Center Core Writer Fellowship, Princess Grace Award, O'Neill National Playwrights Conference and the Disney ABC TV Fellowship and was also nominated for the Susan Smith Blackburn Award.  Her short works are published with TCG and Smith & Kraus. A proud member of the Playwrights Union, the Antaeus Playwrights Lab, and The Dramatist Guild, Jami teaches dramatic writing at Lesley University's low-residency MFA program. She is represented by the Robert A Freedman Agency and Fourth Wall Management and is currently developing a TV project with Quaker Moving Pictures. www.jamibrandli.com
Special Performance Dates:
Thursday, Feb. 1, 2018 @ 7pm – Defying the Gods: Challenging the Status Quo in Pursuit of your Truth
Join MOXIE for a post-show discussion with playwright Jamie Brandli and local public speaker, sociologist, and sexpert Dr. Jenn Gunsaullus. Topic for discussion: We have a choice. Will we stay in the cycles set up for us or break free?
Buy Tickets Now
Friday, Feb. 2, 2018 @ 7pm – Brigade Night: BLISS (or Emily Post is Dead!)
Join MOXIE for our lesbian outreach event and pre-show discussion "Inside the World of Bliss & Etiquette" with Playwright Jami Brandli and public radio's A Way With Words Co-Host Martha Barnette. Libations will be provided.
Buy Tickets Now
Saturday, Feb. 3, 2018 @ 8pm – Opening Night: BLISS (or Emily Post is Dead!)
Join MOXIE for the Opening performance of the Joint World Premiere. Afterward, attend a post-show party to celebrate with the cast, enjoy catered libations, and mingle with MOXIE VIPs.
Buy Tickets Now
Friday, Feb. 9, 2018 @ 2pm – Ruined with Visions: A Closer Look at Cassandra
Join MOXIE and Dr Starkey, specialist in Classical Greek Theatre at SDSU, as she expands on the character of Cassandra and the conceptions of madness in the ancient world.
Buy Tickets Now
Sunday, Feb. 11, 2018 @ 2pm – Second Sunday Q & A
Join the actors from BLISS (or Emily Post is Dead!) for a post-show discussion to learn more about the play and enrich your theatre going experience.
Buy Tickets Now
Sunday, Feb. 18, 2018 @ 2pm – Looking Back Through a Feminist Lens: Women and Greek Tragedy
Join MOXIE and Dr. Giles-Watson, feminist and specialist in Greek tragedy at USD, as she speaks about the reception and adaptation of the genre with a focus on the female characters.
Buy Tickets Now
Ticket Pricing:
Previews-$20 (Jan 28, Feb 1, 2)
Opening Night-$40 (Feb 3)
General Admission-$33-36 (Feb 4 – Feb 25)
*Please note there is a $3 handling fee which is already included in the price of your ticket. This fee is waived for groups of 10 or more and for our Subscribers.
Group Rates and Discounts:
Groups of 10 or more | $20
Groups of 15 or more | $15
Seniors, Students and Military | $5 off General Admission
Location: MOXIE Theatre
6663 El Cajon Blvd Suite N
San Diego CA 92115
PLENTY OF FREE PARKING!