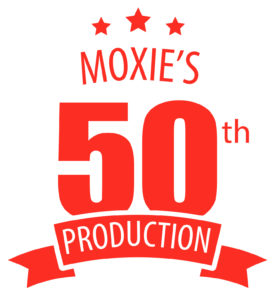 MOXIE is proud to celebrate the anniversary of our 50th production with Jiehae Park's new play, peerless in Sept and Oct of 2016! We've brought San Diego 11 years of award-winning theatre that defies female stereotypes and provides opportunities to female artists. Now we're ready to kick off our next 50 productions. Celebrate 50 with MOXIE and support our mission to create more honest and diverse images of women by giving today.
Two Wonderful Ways to Give:
Give a one time $50 contribution in honor of our 50th production and receive Program and Lobby recognition as well as a drink voucher for when you next attend MOXIE!
Become an Associate Producer at the $50 level and in return for your monthly gift of $50, you'll enjoy Program and Lobby recognition, two drink vouchers for use during performances and an invitation to attend the first read-through & design presentation for each production in Season 12! Plus we'll waive the ticketing fees for any tickets purchased while you're an Associate Producer!
Give Now or call 858-598-7620
Don't forget to select our 50th Production Campaign when you give online or mention it when you give over the phone!
Check out images from our last 49 productions!