Song of Yourself Virtual Poetry Slam Contest
WHAT: An open submission call for high school teachers and their students to follow the prompt inspired by Walt Whitman's "Song of Myself" to write, record, and submit a video performance. If selected, the students' video will be streamed before a performance of MOXIE Theatre and The Electric Theatre Company's production of I and You (playing Virtually March 4-28, 2021) to the ticketed audience. [Class group rates are available and performances can be scheduled to accommodate weekday daytime classes.]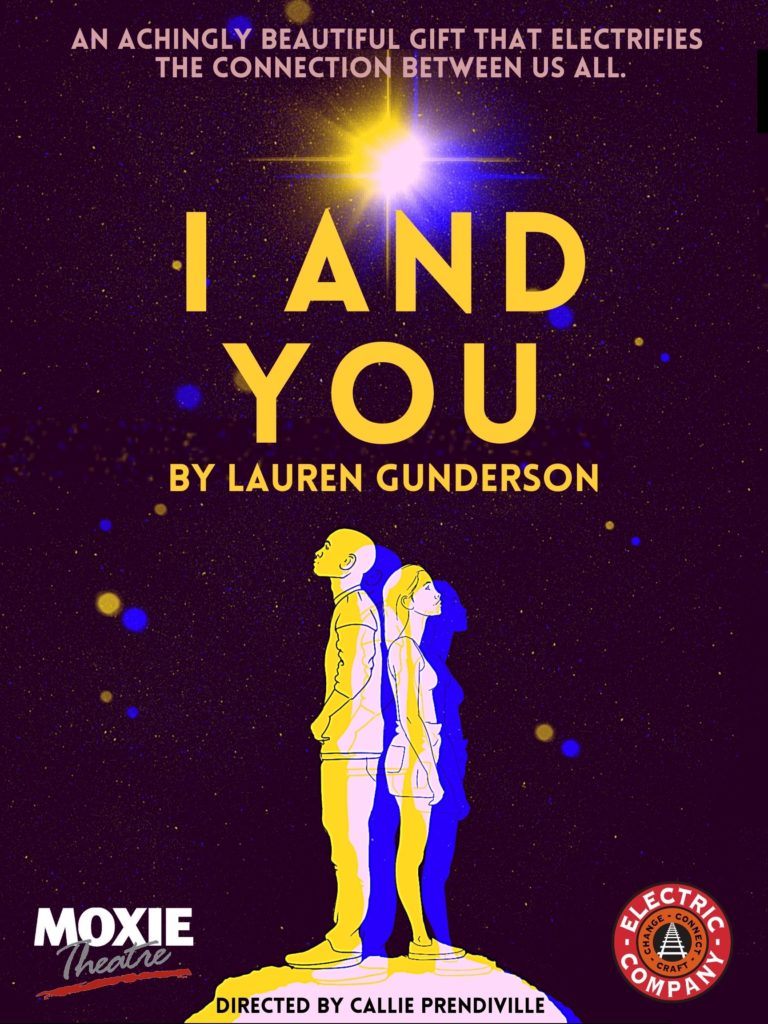 WHO: Any high school student who wishes to participate is welcome. The purchase of a ticket or participation of an entire class is not necessary to submit a video.
WHEN: Please submit your video to callie@moxietheatre.com by February 22, 2021. Please include your first and last name, school name, email address, and phone number.
HOW: Write a one-minute monologue/poem: A Song of Yourself. It can be inspired by the Walt Whitman poem (sample selection below), but it should be uniquely from your perspective. If you're not sure how to begin, make a list of "I" statements about yourself. When you have written it, create a video of yourself "performing" your Song of Yourself. We don't have to see your face (though we're happy to) but we should hear your voice. Make choices: location, lighting, costume, prop, etc. Get creative!
I celebrate myself, and sing myself,
And what I assume you shall assume,
For every atom belonging to me as good belongs to you.
I too am not a bit tamed, I too am untranslatable,
I sound my barbaric yawp over the roofs of the world.
I depart as air, I shake my white locks at the runaway sun,
I effuse my flesh in eddies, and drift it in lacy jags.
I bequeath myself to the dirt to grow from the grass I love,
If you want me again look for me under your boot-soles.
You will hardly know who I am or what I mean,
But I shall be good health to you nevertheless,
And filter and fibre your blood.
WHY: In Lauren Gunderson's I and You, the two characters are high school students working on a project about Walt Whitman's "Song of Myself." MOXIE Theatre and The Electric Company Theatre wish to connect students who may be isolated due to the COVID-19 pandemic with an opportunity to express themselves within a community of young artists. Since we cannot physically be together in the theatre, we look forward to creating this virtual poetry slam with you.
WINNING PRIZE: 16 winning student submissions will be selected for the "Song of Myself Virtual Poetry Slam." Winners will be announced on March 1, 2021. Winning students will receive 4 free tickets to the production of I and You and will witness their Virtual Poetry Slam submission streamed before the performance.
CLASS ATTENDANCE: To learn more about your class attending the virtual performance of I and You, contact boxoffice@moxietheatre.com