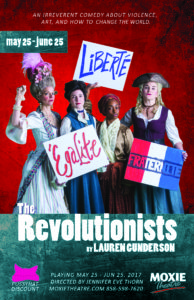 THE REVOLUTIONISTS by Lauren Gunderson
directed by Jennifer Eve Thorn
May 25 – Jun 25, 2017
OPENING NIGHT: May 27
Thur @ 7pm, Fri & Sat @8pm & Sun @2pm
About the Play
Four beautiful, badass women lose their heads in this irreverent comedy set during the French Revolution. At the height of the Reign of Terror, playwright Olympe de Gouges, assassin Charlotte Corday, activist Marianne Angelle and former queen Marie Antoinette hang out, plot murder and try to beat back extremist insanity in Paris. This grand and dream-tweaked comedy is about violence, art, and how to change the world.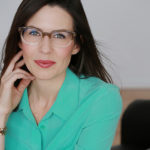 About the Playwright
 Lauren M. Gunderson is the most produced living playwright in America of 2016, the winner of the Lanford Wilson Award and the Steinberg/ATCA New Play Award, a finalist for the Susan Smith Blackburn Prize and John Gassner Award for Playwriting, and a recipient of the Mellon Foundation's 3-Year Residency with Marin Theatre Company. She studied Southern Literature and Drama at Emory University, and Dramatic Writing at NYU's Tisch School where she was a Reynolds Fellow in Social Entrepreneurship. Her work has been commissioned, produced and developed at companies across the US including South Cost Rep (Emilie, Silent Sky), The Kennedy Center (The Amazing Adventures of Dr. Wonderful And Her Dog!), The O'Neill, The Denver Center, San Francisco Playhouse, Marin Theatre, Synchronicity, Olney Theatre, Berkeley Rep, Shotgun Players, TheatreWorks, Crowded Fire and more.  She co-authored Miss Bennet: Christmas at Pemberley with Margot Melcon. Her work is published at Playscripts (I and You, Exit Pursued By A Bear, The Taming, and Toil And Trouble), Dramatists (Silent Sky, Bauer, Miss Bennet) and Samuel French (Emilie). Her picture book Dr Wonderful: Blast Off to the Moon will be released from Two Lions / Amazon in May 2017. LaurenGunderson.com and @LalaTellsAStory
About the Cast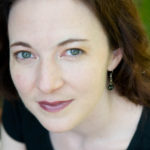 Jo Anne Glover (Olympe De Gouge) Co-Founder and Development Programs Manager of MOXIE Theatre. She has worked On- and Off-Broadway, in Los Angeles, and regionally.  In San Diego, she has been seen on stage at MOXIE, Cygnet Theatre, SD Rep, Intrepid and New Village Arts.  Credits include Emilie, The (curious case of the) Watson Intelligence, Enron, A Discourse on the Wonders of the Invisible World, The Exit Interveiw, Zoot Suit, A Man, his Wife and his Hat, In the Wake, Our Town, Or, The Norman Conquests, The Receptionist (SDCC Best Supp. Actress), Summer and Smoke, Expecting Isabel, Drink Me, Rabbit Hole, Bleeding Kansas, The Listener, Bluebonnet Court, Devil Dog Six, WET, Miss Witherspoon, Dog Act, Limonades Tous les Jours (Patte award, Best Actress), Pulp, Kimberly Akimbo, The Two Gentlemen of Verona, Hamlet, Stop Kiss, and Othello. In addition to her work as an actress, she has worked as a producer in New York and Los Angeles.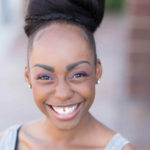 Cashae Monya (Marianne Angelle) is deliriously elated to be back on the MOXIE stage after appearing in both Our Lady of Kiebho and Ruthless! last season. Other MOXIE credits: Trouble in Mind, Crumbs From the Table of Joy, Counterweight: The Elevator Love Play (Co- Production with La Jolla Playhouse WoW Festival) and The Bluest Eye. Recent credits include: Well and Civil War Christmas (Diversionary Theatre); Miss You Like Hell and Memphis (The La Jolla Playhouse); Lady Day at Emerson's Bar and Grill and Chicago: Speakeasy Cabaret (ion Theatre); Little Shop of Horrors and Our Town (Cygnet Theatre); You Can't Take it With You and The Glory Man (Lamb's Players). Upcoming: Cabaret  (ion Theatre).  All my love to the favorites, Grandmie & Matthew!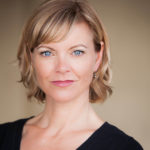 Lisel Gorell-Getz (Marie Antoinette) Lisel is thrilled to be returning to MOXIE in this amazing production. Past MOXIE performances include: Enron, Skinless, Counterweight (Co- Production with La Jolla Playhouse WoW Festival), Dead Man's Cell Phone, The Crucible (Co-production with Intrepid Shakespeare) and Bluebonnet Court. Other San Diego credits include: Measure for Measure (Old Globe Theatre); Sex with Strangers, Detroit, Exit Interview, Tortilla Curtain, In the Next Room: or, the Vibrator Play, Intimate Apparel (San Diego REP); 9 Parts of Desire (Mo'olelo);  Now or Later, Valhalla, Wrinkles, Cloud 9, Psycho Beach Party (Diversionary- Associate Artist); Don't Dress for Dinner (NCRT); Current Nobody (La Jolla Playhouse); Macbeth, Valparaiso (Sledgehammer); Twelfth Night (New Village Arts).  Lisel trained at Ithaca College and the British American Drama Academy. A heartfelt thank you to Jen, Cashae, Jo Anne and Sam… My sisters: Vive la revolution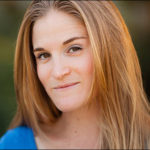 Samantha Ginn (Charlotte Corday): Is thrilled to be reunited with her Moxie sisters! Other Moxie shows include: Trouble in Mind, Hickorydickory (San Diego Critics Circle Award), and Coming Attractions. She graduated from Sonoma State University with her Bachelor's Degree in Theatre Arts. Acting credits: Well, Scrooge in Rouge (Diversionary Theatre), When It Comes (The Old Globe Creative Catalyst), The Weir, Sylvia, The Miss Firecracker Contest, Much Ado About Nothing (New Village Arts), She-Rantulas from Outer Space in 3D! (New York Fringe Festival), The Car Plays (La Jolla Playhouse and The SegerstromCenter), Edgar and Annabel/Far Away (ion theatre), Seminar, Dog Sees God (InnerMission Productions), Almost, Maine (Scripps Ranch Theatre), and The Warrior's Duet (Circle Circle dot dot). Recent artistic endeavors include writing/directing for Bedrooms and Boyfriends for Compulsion Theatre and Dance. She also loves teaching her acting class, Monday Night Live! (Kids Act), which is geared for kids with special needs to create their own sketch comedy show.
Special Performance Dates:
Sunday, June 4, 2017 @ 2pm – The Revolutionists Second Sunday Q & A 
Join the actors from The Revolutionists for a post-show discussion to learn more about the play and enrich your theatre going experience.
Buy Tickets Now
Thursday, June 8, 2017 @ 2pm – The Revolutionists Creative Q & A
If you missed MOXIE's Second Sunday Q & A, you can still join the actors and the San Diego Women's Chorus for another post-show discussion and the opportunity to learn more about The Revolutionists.
Buy Tickets Now
Friday, June 9, 2017 @ 8pm – Women Revolutionaries: Past, Present, and Future
Join Together We Will, the Democratic Woman's Club of San Diego, and Indivisible at MOXIE for a discussion with SDSU Professors Dr. Doreen Mattingly (Women's Studies) and Dr. Eve Kornfeld (History).
Buy Tickets Now 
Sunday, June 11, 2017 @ 2pm – Egalité – Equality, Art and French Colonies
Join us for an exciting exploration of themes in The Revolutionists with USD Professor, Sylvie Ndome Ngilla, PhD who specializes in French and Francophone language, literature and theatre.
Buy Tickets Now
Monday, June 12, 2017 @ 7pm – March on MOXIE
Calling all San Diego artists: put on your pink pussyhats and join MOXIE for Industry Night; a revolutionary evening at the "theatre friends" rate.
Buy Tickets Now
Friday, June 23, 2017 @ 8pm – Artists in the Revolution
Join MOXIE and USD Professor Evelyn Cruz, MFA for a post-show discussion exploring the power, significance, and silencing of artists during revolutions throughout world history.
Buy Tickets Now
Location: MOXIE Theatre
6663 El Cajon Blvd Suite N
San Diego CA 92115
PLENTY OF FREE PARKING!
Ticket Pricing:
Previews-$20 (May 25 & 26 )
Opening Night-$40 (May 27)
General Admission-$30 (May 28 5 – Jun 25)
*Please note there is a $3 handling fee for each ticket purchased. This fee is waived for groups of 10 or more and for our Subscribers.
Group Rates and Discounts:
Groups of 10 or more -$20
Groups of 15 or more -$15
Seniors, Students and Military- $5 off General Admission