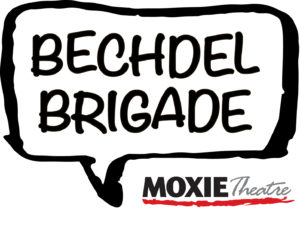 Advocates for Women Making Theatre
Sponsored by the Dea and Osborn Hurston Audience Engagement Program
The Bechdel Brigade is a powerful posse of Lesbian, Bi and Queer women who advocate for MOXIE's mission to create more diverse and honest images of women for our culture.
Join the Brigade at MOXIE for Bechdel Brigade Nights and enjoy our regularly programmed season with some extra moxie thrown in. Each event features discounted Brigade tickets, an exclusive pre-show reception catered and sponsored by The Wild Thyme, early seating, and a private chat with the Director about the art and the artists.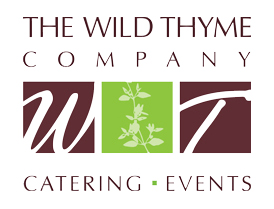 Upcoming Brigade Events
Saturday, Aug 31, 2019 @ 8:00pm – Brigade Night: Dance Nation
Featuring a pre-show reception by The Wild Thyme Company and post-show discussion with the artists.
Saturday, Nov 2, 2019 @ 8:00pm – Brigade Night: Handbagged
Saturday, Feb 1, 2020 @ 8:00pm – Brigade Night: Red Bike
Saturday, May 9, 2020 @ 8:00pm – Brigade Night: Manahatta

Join the Bechdel Brigade as a Donor
Join MOXIE Theatre's Bechdel Brigade named for Alison Bechdel, in honor of women's voices and representation within media. As a Brigadier, you'll receive discounts on your tickets to Brigade night, hear about special events before anyone else, and most importantly, you ensure that MOXIE is able to continue supporting women's voices and outreach in the LGBTQ+ community.
Or call (858) 598-7620 to join the MOXIE movement today.
The Bechdel Test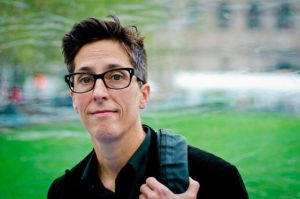 The Brigade is named after Alison Bechdel, the American Cartoonist and creator of Dykes to Watch Out For which coined the "Bechdel-Wallace Test", used to evaluate whether works of fiction give fair representation to women. Bechdel's graphic memoir, Fun Home, was recently turned into a Tony Award-Winning Musical on Broadway. Now the Brigade borrows her name as a rallying cry to support women's voices in theatre and in turn, to inspire women to use their voices in their community.
Bechdel Brigade Chair, Toni Robin of TR/PR Public Relations, is proud to spearhead the task force. "I've been a fan of MOXIE Theatre since the four amazing women founded it in 2004 and have admired their efforts to present honest and diverse women's voices on stage. There is something special about seeing ourselves represented on stage, behind the scenes or in the audience. Our goal with this effort is to expand all three. And who better to honor with this initiative than Alison Bechdel? She'd be a great MOXIE girl!"