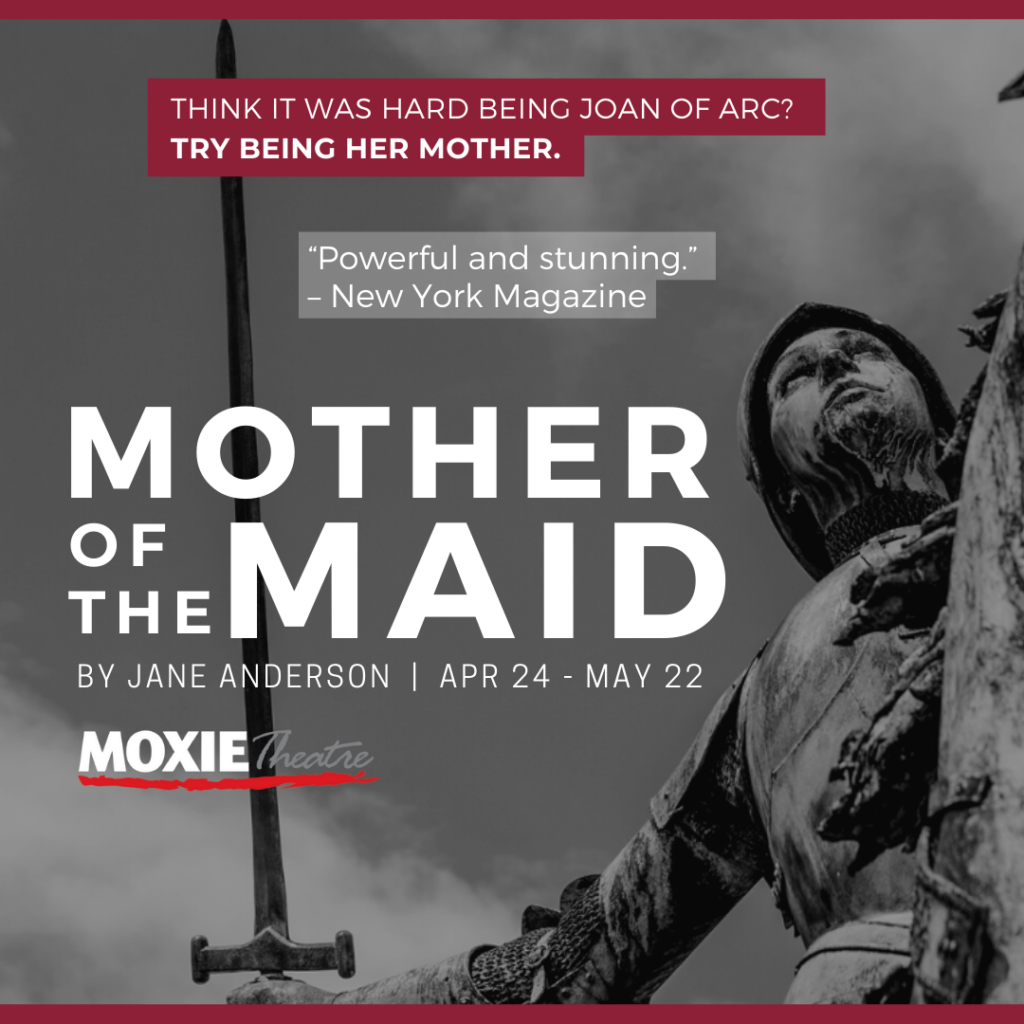 "Powerful and stunning." – New York Magazine
Mother of the Maid
by Jane Anderson
Think it was hard being Joan of Arc? Try being her mother.
Isabelle is a mother and a sensible, hard-working, God-fearing peasant woman whose faith is upended as she deals with the baffling journey of her odd and extraordinary daughter. This riveting play is an epic tale told through an unexpected and remarkable perspective.
The Playwright
Jane Anderson is an Emmy award-winning writer and director for theater, film and television. Plays include: Mother of the Maid, The Baby Dance, Baby Dance: Mixed, Defying Gravity, Looking for Normal, The Quality of Life, The Escort, Lynette at 3AM, Food & Shelter and The Last Time We Saw Her. Her latest play, Mother of the Maid, premiered at the Public Theater in 2018 and starred Glenn Close. Her plays have been produced Off-Broadway and in theaters around the country, including ACT, Arena Stage, Actors Theater of Louisville, Williamstown, Shakespeare & Company, The McCarter Theater, Long Wharf, Geffen Playhouse, and the Pasadena Playhouse. Screenwriting credits: The Wife, starring Glenn Close, How to Make An American Quilt, It Could Happen to You, and The Prizewinner of Defiance, Ohio, starring Julianne Moore & Woody Harrelson, which she also directed. Documentary film: Packed in a Trunk: The Lost Art of Edith Lake Wilkinson, featured on HBO. Television writing credits: HBO's Olive Kitteridge, starring Frances McDormand for which she received an Emmy Award for best teleplay and limited series, a Writers Guild Award for best teleplay and nominated for the Golden Globe for best limited series. She wrote and directed Normal for HBO (starring Jessica Lang & Tom Wilkinson) adapted from her play Looking for Normal which received Emmy, Golden Globe and Directors' Guild and Writers' Guild nominations for best writing and directing.
The Director
Desireé Clarke is an actor, director and producer with credits in the Coachella Valley, San Diego, Los Angeles, and Houston. She received her BFA in Acting from AMDA: College and Conservatory of the Performing Arts and is also a graduate of the British American Drama Academy. In 2019 she directed a staged reading of Rajiv Joseph's Gruesome Playground Injuries for which she was awarded the Desert Theatre League Award for Best Director of a Staged Reading. Desireé is also the founder of the Naked Mind Theatre Group's SHOUT! Program (a theatre program for grieving kids and teens) whose documentary about the program premiered at the National Alliance of Grieving Children Symposium in Portland, OR. She was the Director of Development for Desert Ensemble Theatre from 2020 to 2021 and was instrumental in ensuring the company was able to maintain and expand its internship program to include students from new schools and virtual programming. She also conceived and directed the DET's online monologue slam that featured black actors and playwrights, LGBTQ+ actors, and young actors, reaching the largest audiences of the 2020-2021 season. Desireé is extremely passionate about the impact that theatre can have on underrepresented youth and the application of theatre as a healthy coping mechanism. Today she is a teaching artist at The La Jolla Playhouse, The Old Globe, and Imagine Bravespaces.
The Cast
Jennifer Eve Thorn (Isabelle Arc) is the Executive Artistic Director of MOXIE Theatre and one of its founders. She's taken a long break from acting to focus on her executive role, directing and producing at MOXIE. She's been in many other award-winning productions at MOXIE and all over San Diego. Over the last 20 years, she's been working professionally in San Diego Theatre.
Mikaela Rae Macias (Joan Arc) is beyond grateful for her MOXIE Theatre debut as Joan Arc in Mother of the Maid. Her previous roles include Fernanda in Ofrendas en Pandemia (TuYo Theatre), a Performer in Pop-Up WoW Festival: Can We Now? (La Jolla Playhouse), and Noel in Noel, Noel (San Diego Symphony). She is currently a 2nd-year Theatre Performance student enrolled at San Diego State University. She also graduated from Coronado School of the Arts' Drama and Musical Theatre Program. Thank you to her mom, grandmother, sister, and little cousin for being constant reminders of powerful women.
Dave Rivas (Jacques Arc) is a voice-over actor and sound designer that is thrilled to be making his MOXIE debut. He was last seen on stage in 2018 as Nathan Detroit in Guys n Dolls at CPH, 33 1/3: House of Dreams at SDREP. He is one of the founding producers of Amigos del REP, a group that promotes and performs Latino works thru SDREP. Dave is an accomplished voice actor that has lent his voice to hundreds of video games and commercials over the last 23 years. You can contact Dave at DaveyBoyProductions.com.
Zack King (Pierre Arc) is an actor, dancemaker, and video artist. He received his BFA in Dance with a minor in Theater from SDSU in 2018. Zack strives to cultivate empathy and curiosity by making work that is personal and socially relevant. He hopes this will inspire people to learn more about themselves. Zack also co-hosts The Junkyard podcast with his brother, Imahni King. Together they explore the good, the bad, and the ugly in art and entertainment. Zack is incredibly excited and grateful to be on the MOXIE stage for the first time!
Mark C. Petrich (Father Gilbert/Chamberlain) has appeared in MOXIE Theatre's Enron, Coming Attractions, A Man, his Wife and his Hat, Ten Cent Night, Devil Dog Six, Bleeding Kansas, Drink Me, and Expecting Isabel. Other local credits include: Duncan and the Porter in MacBeth (Intrepid Shakespeare Company); Charlie's Aunt, The Fantastiks, A Thousand Clowns, Breaking Legs, and The Dresser (North Coast Rep); Karl Jaspers in Hannah and Martin (Laterthanever Productions); Hamlet and Richard III (Sledgehammer Theatre); the Wizard in The Wizard of Oz (Starlight Musical Theatre); and Tartuffe (Coronado Playhouse). Mark is featured in the cult films, Marilyn, Alone and Behind Bars, Night Train to Terror, and Hello Jack. He is a graduate of the Shanghai Drama Institute.
Sarah Alida LeClair (Lady of the Court) makes her MOXIE Theatre debut in Mother of the Maid. Sarah previously appeared at Ion Theatre as Cathy in The Last Five Years and as Kerry in Geeks–The Musical! Other favorite roles: Maggie the Cat (Cat on a Hot Tin Roof), Morticia (The Addams Family), The Witch (Into the Woods), Mary Jo (A Piece of My Heart), Merry (First Night), and Sally Bowles (Cabaret). This September Sarah will star in her play The Importance of Ugg Boots with The La Jolla Theatre Ensemble.
Sergio Diaz-Delgado (Guard/Scribe) received his BFA in Acting at AMDA: College and Conservatory of the Performing Arts. He's trained with the Society of American Fight Directors in stage combat and theatrical weapon work. He's worked with Alone: An Existential Haunting, as The Spirit Guide. This is Sergio's first time performing at MOXIE Theater. He is so grateful to get to be a part of this incredible production, working on and off stage, as he is also an Assistant Stage Manager. He would like to thank his incredible Castmates, Megan, Desireé, Jennifer, Blair, His Mother, The Whitley's, and The Zoo Crew.
LIVE ON STAGE
APR 24 – MAY 22
Run time: 2 hours + 15 minute intermission
Mother of the Maid may not be suitable for all audiences as it contains accurate historical information about the execution of Joan of Arc. Parental guidance for audiences under 13 is suggested.
ASL Performance: Sunday, May 15 at 2 pm
Tickets start at $22
Rush Tickets: We are offering a limited number of $15 tickets available 1 hour before each performance for anyone who is facing financial hardship. To purchase a discounted ticket use code RUSH15 at check-out. Code only valid 1 hour before the show, first come first served.
Can't afford $15 right now? We hear that. 10 free tickets are set aside for every performance and are available upon request for those who need them most. If that's you, contact boxoffice@moxietheatre.com 24 hours in advance of the performance you would like to see to request yours.
Group Rate: Groups of 10 or more get 20% off single tickets.
COVID-19 Safety: All guests attending the show must wear a mask indoors and show proof of vaccination or negative COVID-19 PCR or Rapid Antigen test before entering the theatre. MOXIE does not provide testing. See our full COVID-19 Safety Plan here.
THANK YOU!
This show is made possible by the generous support of Season 17 Sponsors:
Denise & Lonnie Bevers
Beth Goodman
Wendy Nash
Click here to support MOXIE Theatre's Season 17!
Design and Production Team:
Stage Manager: Megan Ames
Assistant Stage Manager: Sergio Diaz-Delgado
Set Design: Yi-Chien Lee
Costume Designer: Courtney Ohnstad
Lighting Designer: Annelise Salazar
Sound Designer: Rachel Le Vine
Props Designer: Amy Chini
Technical Director: Nathan Waits
Scenic Artist: Julie Lorenz
Production Managers: Megan Ames & Nicole Ries