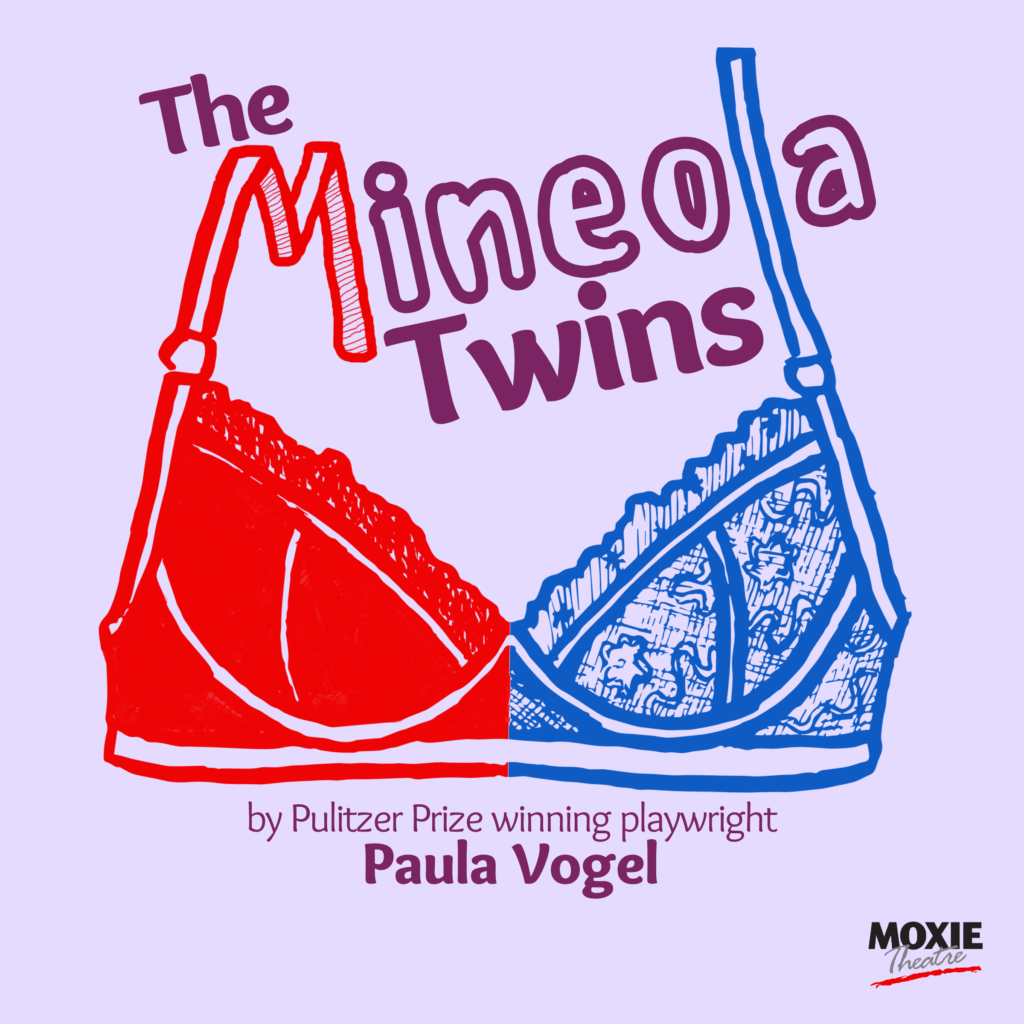 From Pulitzer Prize winning playwright
The Mineola Twins
by Paula Vogel
One dirty sock might end it all. Myrna and Myra are ALMOST identical twins with very different world views. When one sock crosses the threshold of their separate lives, a battle ensues that races through the Eisenhower, Nixon and Reagan/Bush years in this delicious comedy that dives into the brasiers of the ultra-conservative and ultra-liberal to find… boobs on both sides.
The Playwright
Paula Vogel is a Pulitzer Prize-winning playwright whose plays include Indecent (Tony Award for Best Play), How I Learned To Drive (Broadway production set for spring 2020; Pulitzer Prize for Drama, the Lortel Prize, OBIE Award, Drama Desk Award, Outer Critics Circle and New York Drama Critics Awards for Best Play), The Long Christmas Ride Home, The Mineola Twins, The Baltimore Waltz, Hot'N'Throbbing, Desdemona, And Baby Makes Seven, The Oldest Profession and A Civil War Christmas.
The Director
Jennifer Eve Thorn is the co-Founder and Executive Artistic Director of MOXIE Theatre. Directing credits at MOXIE Theatre include Dog Act (with Delicia Turner Sonnenberg,) Fall, Devil Dog Six (with Esther Emery – San Diego Theatre Critics Circle Award, Best New Play), Victoria Martin-Math Team Queen (KPBS Patte Award, Outstanding Direction), The Sugar Syndrome, Drink Me, Expecting Isabel, The Crucible (with Intrepid Theatre Company) and Coming Attractions (with Jo Anne Glover), Hickorydickory, Mud Blue Sky, Enron, Lesson 443, Our Lady of Kibeho, The Revolutionists, Ironbound, The Madres (with Patrice Amon), Herland, Hookman (in association with SDSU), and Dance Nation.
The Cast
Samantha Ginn (Mayra/Myrna) is an actress, inclusion specialist, and teaching artist for neurodiverse actors. She graduated from Sonoma Stage University with a Bachelor's Degree in Theatre Arts and is currently an Associate Artist at New Village Arts. Some acting credits at MOXIE include; The Revolutionists, HickoryDickory (San Diego Critics Circle Award), Trouble in Mind, and Coming Attractions. Other credits: The Servant of Two Masters (co-writer), Sylvia, The Weir (New Village Arts), Well, Scrooge in Rouge (Diversionary Theatre), The North Plan (ion theatre), The Car Plays, How High The Moon (La Jolla Playhouse), She-Rantulas from Outer Space in 3D! (New York Fringe Festival), Dog Sees God, Seminar (InnerMission Productions), and The Warrior's Duet (Circle Circle dot dot).
Emily Jerez (Jim/FBI Agent/Psych Ward Attendant) is new to the San Diego area and is thrilled to be making her MOXIE debut in The Mineola Twins. Recent theatre credits include: Friends with Guns (The Road Theatre), Showpony (Victory Theatre), Wicked Pagan Gays (Zephyr Theatre), and The Rainbow Bridge (Ruskin Group Theatre).
Phillip Magin (Kenny/Ben) is thrilled to be making his mainstage MOXIE Theatre debut in The Mineola Twins. He was previously in Murder in the Zoom Room as a part of MOXIE Theatre's ZoomFest. Other local credits include work at Coronado Playhouse, New Village Arts Final Draft New Play Festival, La Jolla Playhouse WOW Festival, San Diego Shakespeare Society, and the San Diego International Fringe Festival where he was also a Writer, Producer, and Director. Phillip graduated from San Diego State University with a B.A. in Theatre Performance earlier this year.
Desireé Clarke (Sara/FBI Agent/Psych Ward Attendant) is from Palm Springs, CA and excited to be making her MOXIE debut. She received her BFA in acting from AMDA: College and Conservatory of the Performing Arts and is also a graduate of The British American Drama Academy. She was recently seen as Zoe in Black Mexican as part of the San Diego Rep Latinx Play Festival. Past roles include Cynthia in Sweat (Desert Theatre League Award, Best Lead Actress), Shatique in White Guy On The Bus, Francine/ Lena in Clybourne Park, Nurse in Romeo and Juliet, The Mother in Blood Wedding (Irene Ryan Acting Award Nominee), and Doctor Fine/ Madden in Next to Normal.
Live On Stage
Sep 26 – Oct 24
DISCLAIMER: This show is not suitable for young audiences.
Special ASL Performance: Sunday, October 17th at 2 pm
Regular tickets: $22-44
Rush Tickets: We are offering a limited number of $15 tickets available 1 hour before each performance for anyone who is facing financial hardship. To purchase a discounted ticket use code RUSH15 at check-out. Code only valid 1 hour before the show, first come first served.
Can't afford $15 right now? We hear that. 10 free tickets are set aside for every performance and are available upon request for those who need them most. If that's you, contact boxoffice@moxietheatre.com 24 hours in advance of the performance you would like to see to request yours.
Group Rate: groups of 10 or more get 20% off single tickets.
THANK YOU!
This show is made possible by the generous support of Season 17 Sponsors:
Beth Goodman
Wendy Nash
Would you like to support MOXIE's Season 17 as well?
Make your donation today!
Design and Production Team:
Stage Manager: Danielle Dudley
Scenic Designer: Reiko Huffman
Costume Designer: Danita Lee
Wig Designer: Missy Bradstreet
Lighting Designer: Christopher Loren Renda
Sound Designer: Matt Lescault-Wood
Asst. Sound Designer: Evan Eason
Props Designer: Alyssa Kane
Technical Director: Cynthia Bloodgood