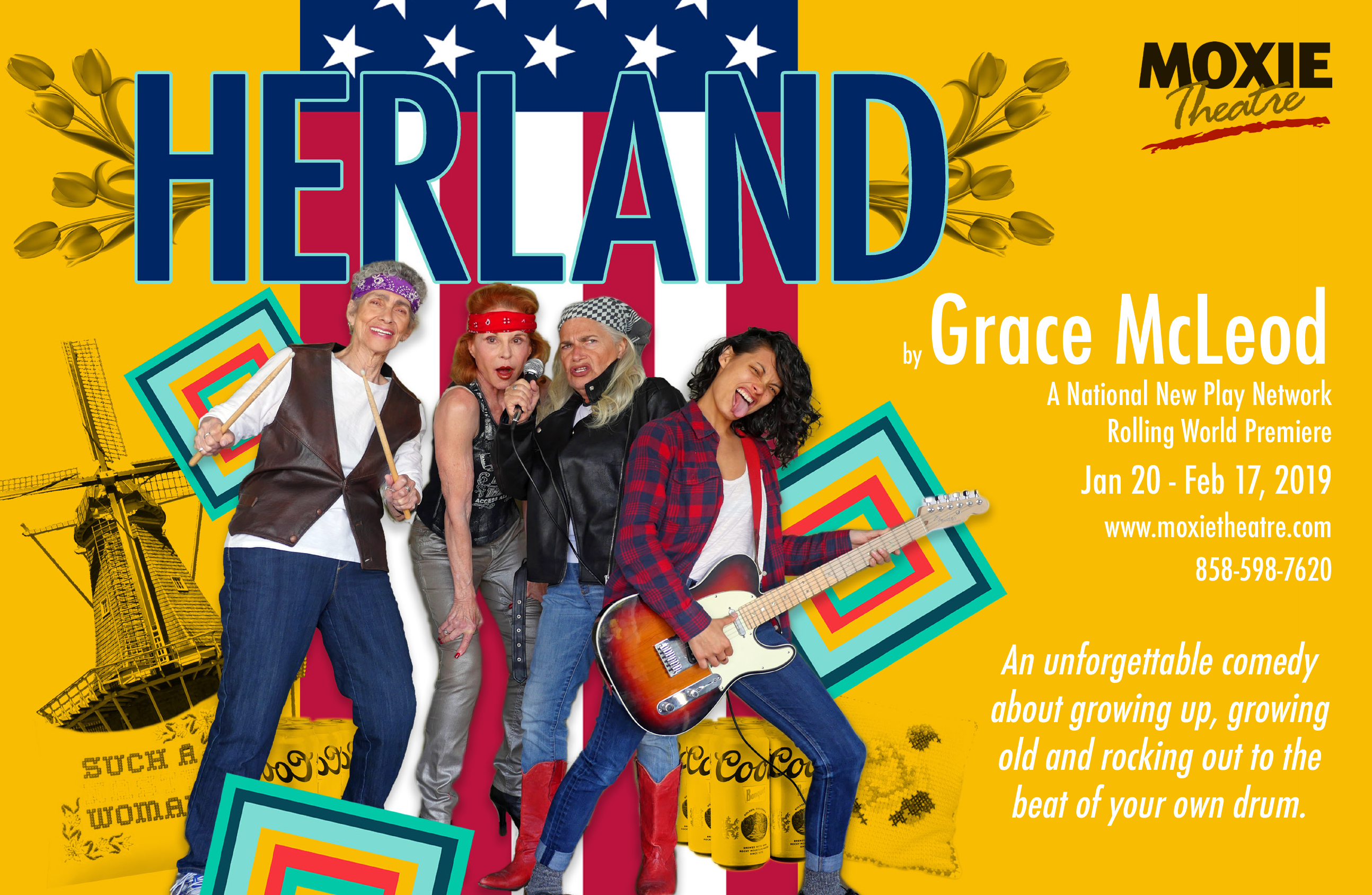 An NNPN Rolling World Premiere
Herland
by Grace Mcleod
Directed by Jennifer Eve Thorn

Jan. 20 – Feb. 17, 2019
Opening Night: January 26, 2019
Thur @ 7:30pm,
Fri & Sat @8pm
& Sun @2pm.

About the Play
Jean is not moving into a retirement home. She recruits her best friends who are also in their 70s and a high school intern to hatch a bold plan for a Utopian alternative. Formerly the domain of a locally famous Bruce Springsteen cover band, Jean's garage becomes the stage for a hilarious story about growing into yourself and getting what you want.
About the Playwright
Grace McLeod is a Chicago-based playwright and screenwriter. She has developed her full-length plays with First Floor Theater, Greenhouse Theater Center, The New Colony, and Commission Theatre, and has had the pleasure of writing short plays for Chimera Ensemble, American Blues Theater, and the Victory Gardens College Night series, among others. Grace was the recipient of the 2018 Olga and Paul Menn Foundation Prize for Playwriting and a 2017-2018 playwright-in-residence at the Greenhouse Theater Center as part of the Trellis Residency Initiative, where she developed her play "Herland," which will have its National New Play Network Rolling World Premiere this year at MOXIE Theatre in San Diego, Redtwist Theatre in Chicago, and Greenway Court Theatre in Los Angeles. She was a 2013-2014 Tribeca Film Fellow and wrote and directed the short film "Under the Table," which premiered during the 2014 Tribeca Film Festival. Grace is a recent graduate of the University of Chicago.
About the Cast
Rhona Gold (Jean) is delighted to be returning to the MOXIE Theatre stage and to be working with such a talented group of women. She has been seen in a number of MOXIE productions including The Crucible (an Intrepid and Moxie Theatre collaboration), Drink Me, Eurydice, Eleemosynary, and Skinless. She also appeared in The Vortex and Hay Fever, two Noel Coward plays which ran in repertory at The Cygnet Theatre, Hedda Gabler at The North Coast Rep and Old Jews Telling Jokes at the Lyceum Theatre. She appeared in Enchanted April, Steel Magnolias, The Music Man, Guys and Dolls and Fiddler On the Roof at Lambs Players Theatre.
Christine Cervas Nathanson (Natalie) is proud to be MOXIE Theatre's Business Manager, and a founding member and co-Artistic Director of MaArte Theatre Collective. She holds a B.A. in Theatre Arts from Westmont College where she commissioned and directed the premiere of Tar and Feather by Kristin Idaszak (Santa Barbara Indy Award). Select acting credits include: Dido Queen of Carthage as Dido (Santa Barbara Indy Award), Dido and Aeneas as Belinda, Electra as Electra (Westmont). Select directing credits include: Colored (MaArte Theatre Collective); Skin and Bone (self-produced); Spin Class, The Bechdel Tent, Des Étoiles, (Westmont); Ophelia/Ophelie (SDSU 10 Minute Play Festival). Assistant directing credits include: Voyeurs de Venus, The Revolutionists (MOXIE Theatre); Vietgone (San Diego Repertory Theatre); and The Last Wife (Cygnet Theatre). Upcoming: The Fire in Me by Thelma Virata de Castro (Asian Story Theatre) made possible by the San Diego Foundation Creative Catalyst Grant. @christinecervas
Jill Drexler (Louise) is happy to be back at MOXIE. Her last role there was in Coming Attractions. Other recent roles include work at 4000 Miles (Ion); True West (Cygnet); The Season of Love, Lettice and Loveage (Scripps Ranch Theatre); Beau Jest, Foxfire, Ring Around the Moon, Moon Over Buffalo (Moonlight Stage at the Avo); Lend Me a Tenor, Buried Child, What's Wrong with this Picture (North Coast Repertory Theatre); Hysterical Blindness (Backyard Productions); Torch Song Trilogy, Fit to be Tied (Diversionary Theatre, San Diego Theatre Critic's Circle award). Ms. Drexler is the Artistic Director of Scripps Ranch Theatre, which opens Dancing Lessons by Mark St. Germain on January 25th.
Loie Gail (Terry) is excited and proud to be making her first appearance at MOXIE Theatre. Though a performer since childhood (mainly as a singer,) she came to acting in her retirement and completed a 2 year training at the Meisner/Chekov Intensive Training Studio with master teachers Lisa Berger, Liz Shipman and Jeffrey Ingman. Some of theplays in which she has appeared are Over the Tavern, The Bad Seed, Bell Book & Candle (for which she was nominated for an Aubrey Award), Lend Me a Tenor, The Vagina Monologues, Persuasion, The Peacock and the Nightingale, The Hallelujah Girls, and The Odd Couple (Female Version). Loie is also a member of The Late Bloomers improve group at the North Park Vaudeville theater.
Meg Stoll Tron (Becca) is an LA based actor excited to be at MOXIE for this show. After getting her B.A. from the University of San Diego, Meg appeared locally in the Plays by Young Writers Festival (The Old Globe/Playwrights Project), as Hamlet in a one-night showcase (self-produced), and as Cindy in Fefu and Her Friends (Oracle Performing Arts). Her favourite roles include Katherine in Henry V and Eurydice in Eurydice. Meg likes to swing dance, sword fight, direct a little bit, and discuss Shakespeare over red wine like THAT kind of actor. @megstolltron
Special Performance Dates:
Friday, January 25, 2019 @ 8pm – A Night OUT with Georgette Gomez!
Join us for a post-show talkback with Council President and previous MOXIE Award Winner Georgette Gómez (District 9) and playwright, Grace McLeod, on "Queer Role Models in Fiction and Flesh".
Buy Tickets Now
Saturday, January 26, 2019 @ 8pm – Opening Night: HERLAND
Join MOXIE for the Opening Night performance. Afterward, attend a post-show party to celebrate with the cast, enjoy libations catered by Garden Kitchen, and mingle with MOXIE VIPs.
Buy Tickets Now
Sunday January 27 , 2019 @ 2pm – BFFs Through the Ages
Join University of San Diego professor Dr. Monica Stufft after the first matinee performance for a discussion on iconic female friendships in media and culture.
Buy Tickets Now
Saturday, Feb 2, 2019 @ 8pm – Brigade Night: HERLAND
Join MOXIE and the powerful group of lesbian community leaders, The Bechdel Brigade, which advocates for MOXIE's mission to create more diverse and honest images of women for our culture, for a pre-show reception with a performance by the San Diego Women's Chorus, and a post-show discussion with HERLAND playwright Grace McLeod. Also, enjoy catered libations from Event Sponsor, The Wild Thyme Company. Learn more about The Bechdel Brigade.
Buy Tickets Now
Sunday, Feb 3, 2019 @ 2pm – Second Sunday Q & A
Join the actors from Herland for a post-show discussion to learn more about the play and enrich your theatre-going experience.
Buy Tickets Now
Ticket Pricing*:
Previews | $18-23 (Jan 20 – Jan 25)
Opening Night | $38-43 (Jan 26)
General Admission | $28-38 (Jan 27 – Feb 17)
Group Rates and Discounts:
Groups of 10 or more | $25.50 per ticket
Groups of 15 or more | $22.50 per ticket
*Please note that pricing is subject to change according to availability. Please call the Box Office (858) 598-7620 for specific pricing.
Location: MOXIE Theatre
6663 El Cajon Blvd Suite N
San Diego CA 92115
PLENTY OF FREE PARKING!
Make a Dinner Reservation

MOXIE recommends Garden Kitchen. Make your reservation online or by calling 619-431-5755. *Please note, Garden Kitchen is closed Sundays, and from 8/26- 9/4.
MOXIE Theatre thanks the following Sponsors:
World Premiere Rights Sponsor, Lynne Thrope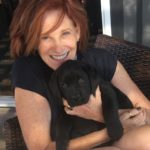 San Diego LGBT Pride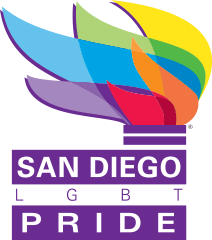 Silver Sponsor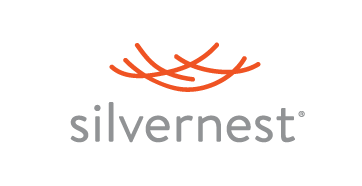 San Diego Council for Arts and Commission