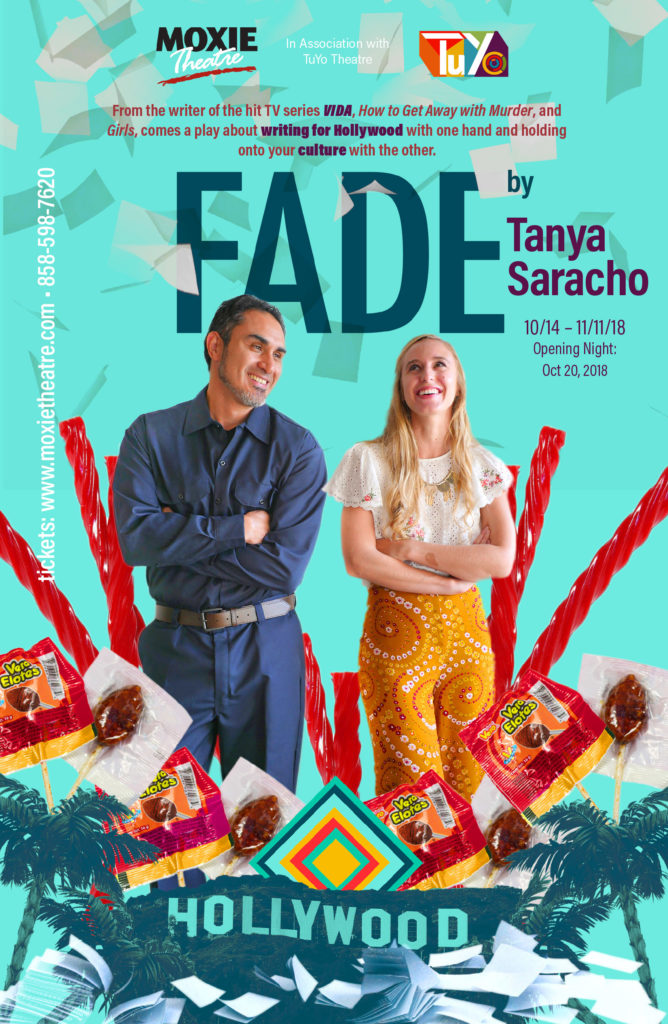 This San Diego Premiere is
produced in Association with TuYo Theatre
From the writer of the hit TV series VIDA, How to Get Away with Murder, and Girls, comes a play about writing for Hollywood with one hand and holding onto your culture with the other.
Fade
by Tanya Saracho
directed by Maria Patrice Amon
Oct. 14 – Nov. 11, 2018
Opening Night: October 20, 2018
Thur @ 7:30pm,
Fri & Sat @8pm
& Sun @2pm
About the Play
Meet Lucia: she's a young first-year TV writer originally from Mexico and recently relocated to L.A. Abel is a janitor and the only other Latino Lucia has seen in the office. They may both be inside the same oppressive system but they don't handle the pressure the same way. As their friendship grows, his ideas blur with hers which leads to unexpected consequences in this witty comedy about class, integrity, and culture.
Produced in Association with TuYo Theatre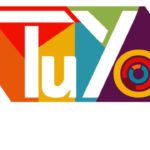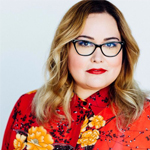 About the Playwright
Tanya Saracho was born in Sinaloa, México. She is a playwright and Television Writer who's worked on "How To Get Away With Murder," and HBO's "Looking," among other shows. Currently, she serves as the creator and showrunner of the upcoming series "VIDA" on Starz. She is also developing a television series called"Brujas" with Big Beach, which deals with the intersection between Brujería culture and Feminism. Named "Best New Playwright" by Chicago Magazine, Saracho has had plays produced at: Dallas Theatre Center, Victory Gardens Theatre, Theatreworks, Primary Stages and 2nd Stage in NYC, Denver Theatre Center, Oregon Shakespeare Festival, The Goodman Theater, Steppenwolf Theater, Teatro Vista, Teatro Luna, Fountain Theater, Clubbed Thumb, NEXT Theater and 16th Street Theater. Saracho was named one of nine national Latino "Luminarios" by Café magazine and given the first "Revolucionario" Award in Theater by the National Museum of Mexican Art. She is the founder of Teatro Luna (all-Latina Theatre Company) as well as the founder of ALTA (Alliance of Latino Theatre Artists). She is currently under commission with: South Coast RepertoryTheatre and Two River Theatre.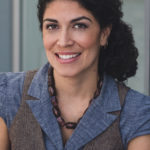 About the Director
Dr. Maria Patrice Amon is a Producer in Residence at San Diego Repertory Theatre. She is the executive producer of Amigos del Rep and launched the Latinx New Play Festival at San Diego Repertory Theatre, and produces a staged reading series, the Amigos del Rep general body, and community engagement events. Maria Patrice has co-directed The Madres at Moxie Theatre, Lydia with Brown Bag Theatre Company, and staged readings with Amgios del Rep and Breath of Fire Latina Theatre Ensemble. Maria Patrice has a PhD in Drama from University of California, Irvine with emphases in Critical Theory and Chicano Studies. Her dissertation is titled "Little Girls and Legal Defendants: Theatricalization and Performances of Innocence in Modern American Culture." Maria Patrice is a Visiting Assistant Professor at UC Riverside. As a dramaturg Maria Patrice has worked with San Diego Rep, Mo'olelo, and The University of San Diego. Maria Patrice holds a Juris Doctorate from California Western School of Law.
Special Performance Dates:
Friday, Oct 19, 2018 @ 7pm – Brigade Night: Fade
Join MOXIE and The Bechdel Brigade for our lesbian outreach event featuring a pre-show discussion with a special guest and catered libations from The Wild Thyme Company. Learn more about The Bechdel Brigade.
Buy Tickets Now
Saturday, Oct 20, 2018 @ 8pm – Opening Night: Fade
Join MOXIE for the Opening Night performance. Afterward, attend a post-show party to celebrate with the cast, enjoy libations catered by Garden Kitchen, and mingle with MOXIE VIPs.
Buy Tickets Now
Sunday, October 21, 2018 @ 2pm – Post-Show Discussion with Professor Evelyn Diaz Cruz
Join us for a post-show discussion about the play with winner of the prestigious KPBS Hispanic Heritage Month Local Hero Award USD Professor Evelyn Diaz Cruz to learn more about the play and enrich your theatre-going experience.
Buy Tickets Now
Sunday, October 28, 2018 @ 2pm – Second Sunday Q & A
Join the actors from Fade for a post-show discussion to learn more about the play and enrich your theatre-going experience.
Buy Tickets Now
Sunday, November, 4, 2018 @ 2pm – Race, Gender and the Writing Room
A lively panel discussion about themes in the play with Assoc. Prof. Rebecca Martiniz from MU, Prof. Michelle Madsen Camacho, PhD from USD and Assoc. Prof. Aurorae Khoo from SDSU!
Buy Tickets Now
Ticket Pricing*:
Previews | $18-23 (Oct 14 – Nov 11)
Opening Night | $38-43 (Oct 20)
General Admission | $28-38 (Oct 21- Nov 11)
Group Rates and Discounts:
Groups of 10 or more | $22.50 per ticket
Groups of 15 or more | $19.50 per ticket
*Please note that pricing is subject to change according to availability. Please call the Box Office (858) 598-7620 for specific pricing.
Location: MOXIE Theatre
6663 El Cajon Blvd Suite N
San Diego CA 92115
PLENTY OF FREE PARKING!
Make a Dinner Reservation

MOXIE recommends Garden Kitchen. Make your reservation online or by calling 619-431-5755. *Please note, Garden Kitchen is closed Sundays, and from 8/26- 9/4.
MOXIE Theatre Thanks the Following Sponsors:
Design Sponsor, Anne Hoiberg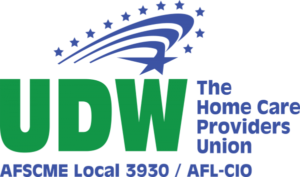 test test test