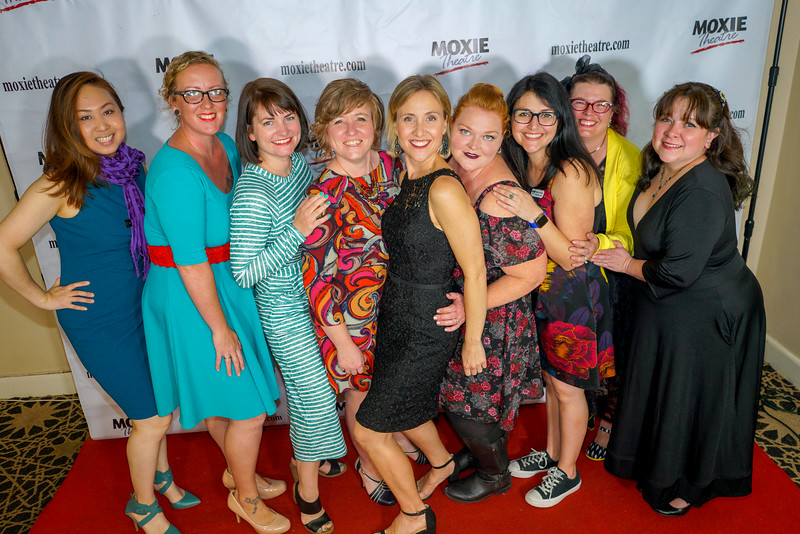 Jennifer Eve Thorn, Executive Artistic Director (she/her)
Jennifer Eve Thorn is one of the founders of MOXIE Theatre. She received her BA in Theatre from the College of Santa Fe in New Mexico. After university, Ms. Thorn moved to New York to work with the renowned Off-Broadway Vineyard Theatre as assistant to the general manager. In 2001, Thorn returned to her hometown of San Diego to take a position at the San Diego Repertory Theatre as a Casting Associate and Administrator in the Artistic Department. In May of 2003 Thorn's adaptation of the national best seller First They Killed My Father was staged and produced at the La Jolla Museum of Contemporary Art to raise funds for Land Mine Victims in Cambodia, raising an astounding $500,000 for the Vietnam Veterans of America Foundation. In 2004, Thorn founded MOXIE Theatre with Delicia Turner Sonnenberg, Jo Anne Glover and Liv Kellgren. She served as the company's Associate Artistic Director. Thorn is also the director and co-creator of A Lesson For Life. Recently she was awarded a Global Leadership Award from The Young President's Organization for this groundbreaking educational theatre experience. She developed the "MOXIE Theatre Immersion" program, designed to incorporate the art of theatre into the world of corporate strategic planning to facilitate team building and communication with major brands like Disney, Pixar. In 2012, Ms. Thorn was nominated for San Diego Magazine's Woman of the Year Award and in 2017, she stepped into the role of Executive Artistic Director of MOXIE Theatre.
Nicole Ries, Production Manager (she/her)
Nicole has been MOXIE Theatre's Production Manager since 2015. She received a BA in theatre arts with an emphasis in arts management from San Diego State University. During her time at SDSU Nicole worked as a House Manager for two venues on campus and also worked as a Production Supervisor for outside renters using the Don Powell Theatre. After graduating with high honors, Nicole focused the next four years on Stage Managing. As a Stage Manager Nicole has worked with MOXIE Theatre, Broadway San Diego, The Old Globe, Diversionary Theatre, Cygnet Theatre, The Old Globe & University of San Diego Shiley Graduate Theatre Program (Resident Production Stage Manager since 2011) and San Diego State University. As an Arts Administrator Nicole has worked with The San Diego REP (Company Manager/Assistant Production Manager: 2003-2009) and Starlight Musical Theatre (General Manager: 2010-2011).
Callie Prendiville, Associate Artistic Director (she/her)
Callie is an actress, writer, educator and director. Callie's play, The Plummer Project, about the history of Orange County and the illegal deportations of Mexican-Americans during the Great Depression, received a California Stories Grant from the California Humanities Association. Her play, Blamed: An Established Fiction, won Best Drama at the San Diego Fringe Festival in 2015 (performed in Tijuana and San Diego), and the 2017 Hollywood Fringe Festival Scholarship, funded by the NEA. Blamed was then selected to perform Off-Broadway at the Soho Playhouse. As an actress she has performed at MOXIE, South Coast Repertory, La Jolla Playhouse, North Coast Repertory, Los Angeles Opera, Long Beach Playhouse, Chance Theatre, Downey Civic Light Opera and Lyric Opera San Diego. She holds a BA in Theatre from the University of San Diego, an MFA in Performance from CSU Los Angeles, and has taught at the University of San Diego, Concordia University Irvine, The Orange County High School of the Arts, BRIDGE Theatre Project, La Habra Theater Guild, Christian Youth Theatre, and The Playground.
Valentina Lunati, Development Director (she/her)
Valentina started working at MOXIE in 2018 as the very first Development Director at MOXIE Theatre. Her hiring marked an important step in the company's growth. She responsible for grant writing, donor cultivation, and fundraising events. She has a very diverse background, having worked as a Language Interpreter and Relocation Consultant, before arriving to the non-profit sector when she moved to San Diego in 2014. As Department Manager at a refugee relocation agency, she oversaw their development and fundraising efforts, as well as the operations and growth their language services, home care agency and child sponsorship program. Valentina holds an M.A. in Philosophy and an M.A. in Conference Interpreting. She is a long-time theatre supporter and audience member and is thrilled to lend her skills to the growth of MOXIE Theatre.
Vanessa Duron , Sales & Box Office Director (she/her)
is also a local San Diego actor/director/writer and producer. She graduated from San Diego State University with a BA in theatre. Vanessa is a strong advocate for POC theatre and mental illness awareness. Vanessa has experience working as an artist at MOXIE Theatre, Tuyo Theatre, Blindspot Collective, Trinity Theatre, Stagehouse Theatre and as an Assistant Producer for the Latinx New Play Festival at the San Diego REP and Co-Producer for Recover-Me. She's both performed and directed at the San Diego County Fair and has written for and acted for an international theatre in Lima, Peru, Teatro Taripay Pacha. Vanessa is also a proud member of Amigos del REP. Vanessa is excited and humbled to be a part of a group of women who are empowering, brave and resilient.
Sara Varela, Marketing Manager (she/her)
is a marketing professional from Los Angeles and new to San Diego, having joined MOXIE Theatre as the Marketing Manager in the fall of 2021. As a marketing professional with a passion for creating unique experiences, she has worked in live music, performing arts, Minor League Baseball, NCAA Division I sports, and the craft brewery scene. Her areas of focus as a Marketing Manager for MOXIE are copywriting, advertising, and digital marketing. Sara received a BS in Journalism from Boston University with a minor in Anthropology.
Chaunsa Oyos, Accounting Associate (she/her)